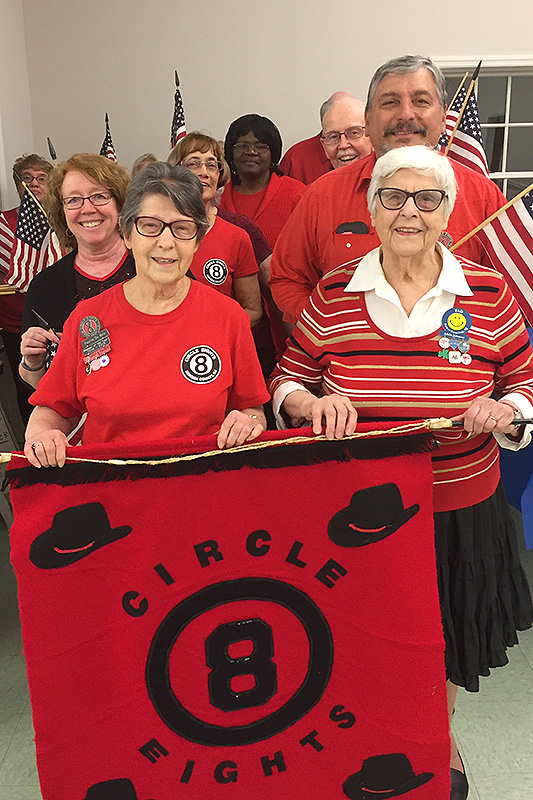 Circle Eights has been square dancing in northern NJ since 1960. Beginning in September 2017 we will be dancing at the American Legion Hall in Fair Lawn, NJ on the third Friday of each month. Dances are Mainstream with a half an hour of Plus.
We offer a beginners class every year at the East Brook Middle School in Paramus, NJ. Classes are taught by local caller Paul Ingis and are well attended by current club members as 'angels,' so every square has both experienced dancers and beginners; it's a lively evening.
For more information call Pat and Tom at 201-955-1495.
Location
Beginning in September 2017 Circle Eights will be dancing at the

American Legion Hall
17-08 River Road
Fair Lawn, NJ 07410-1206
DIRECTIONS:
From Route 4 Westbound: keep right to merge onto Route 208 North toward Oakland. Exit onto Fair Lawn Avenue West. At 2nd light (Empress Diner), turn right onto River Road. In two blocks, turn left into parking lot.
From Route 80, either direction: take Exit 61 toward Route 507/Elmwood Park. From eastbound, turn left; from westbound, turn right onto River Drive (becomes River Road). Two blocks after the light at Empress Diner/Fair Lawn Avenue, turn left into the parking lot.
For help with directions on dance night call 845-499-1386.
Beginner Square Dance Classes
Circle Eights sponsors a beginners Mainstream Class every year; in 2017 classes will meet on Tuesdays at the East Brook Middle School, 190 Spring Valley Rd., Paramus, NJ 07652, from 7:30 to 9:30 PM. The teacher this year will be local caller Paul Ingis.
Classes will begin October 3, 2017. The first two dates, October 3 and October 10, will be FREE 'Dance Party' open houses, to give newcomers a feel for what square dancing is like. Circle Eights always has lots of club members who attend the beginners classes as 'angels,' providing extra dancers to fill out squares.
Paul Ingis runs a lively and entertaining class - you'll enjoy yourselves while you're learning the common square dance calls. At the end of classes in the spring you'll be eligible to join Circle Eights as full members. In fact, you'll be welcome at square dance clubs all over the country (and the world) that do Mainstream Square Dancing.
Our class is part of the Paramus Community School. For more information, or to register, go to its website, Paramus Community School. Or you can call teacher Paul Ingis at 201-741-6050 for more information.
If you are new to square dancing: the basic dance unit is four couples facing each other in a square. Each dance has a 'caller' who tells the dancers what to do; there are about 60 'calls' in Mainstream dancing, which the caller can combine as he or she wishes. Music can be anything from current pop to classic country; again, it's up to the caller. You don't need special clothes or shoes; just dress comfortably. Bring a partner or come alone; there are plenty of people to dance with. No special ability is required: if you can walk fast, you can learn to square dance.
Once you have mastered the Mainstream calls, there are advanced programs you can learn: Plus, A1, A2, and C1. Many Mainstream clubs include a few Plus 'tips' (sets of dances) and there are clubs that specialize in advanced dancing.
Eighteen clubs belong to the Northern NJ Square Dance Association, including one in Brooklyn and the Times Squares in Manhattan. One group, the Garden State Square Dance Campers, meets in various campgrounds for weekends that include square dancing. You can visit other clubs as individuals, or participate in 'raids' where a club visits another club officially as a group. There are lots of opportunities for enjoying what you've learned!
Plus Square Dance Classes
Most years our sister club, 'Western Wheelers/Hix & Chix', sponsors a Sunday afternoon Plus Class in Dumont, taught by Fran Wadel. Unfortunately they are unable to offer it this year. Check back again in the fall of 2018.
For more information call class co-ordinater Bob Bachmann at 201-664-4348 or powerseat2@msn.com. You must have completed a Mainstream Class to sign up for Plus.
Gallery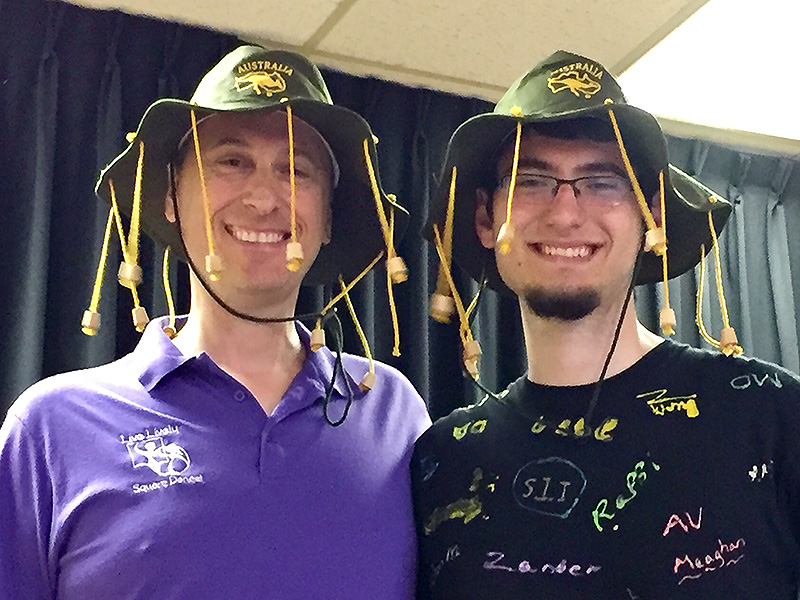 Callers Paul and Stephen Ingis dressed 'foolishly' for the April Fools Dance.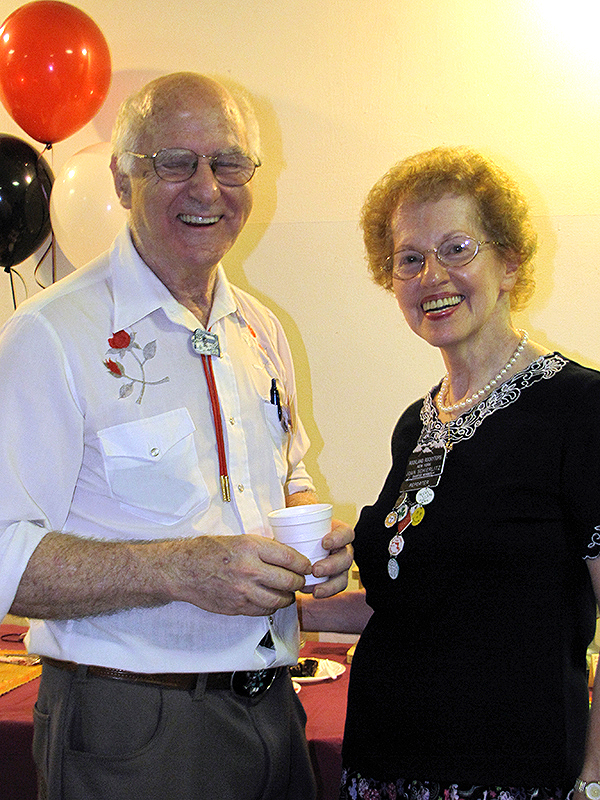 Former Circle Eights Caller and Teacher Andy Woerner.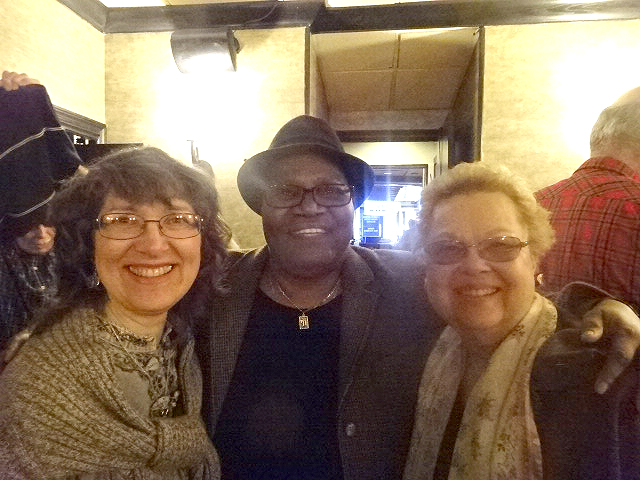 Nancy, Wina, and Louise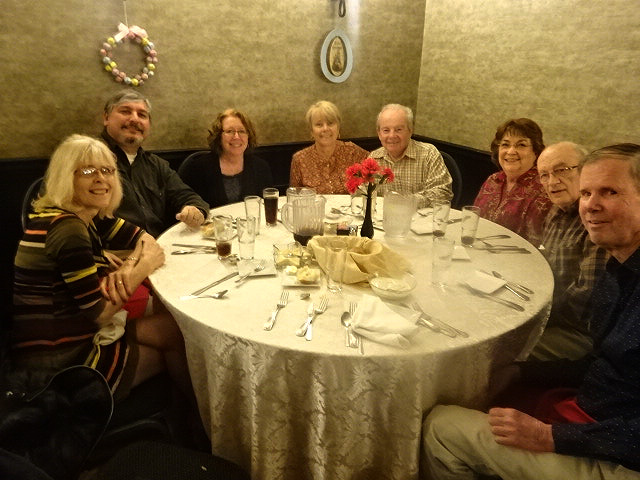 At the 2017 Luncheon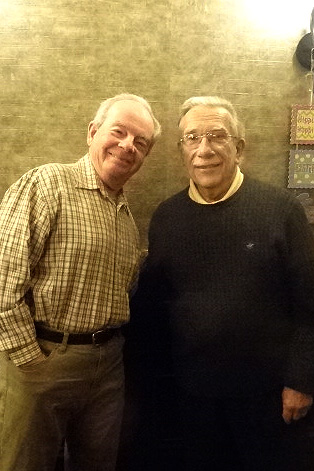 Dick and Ed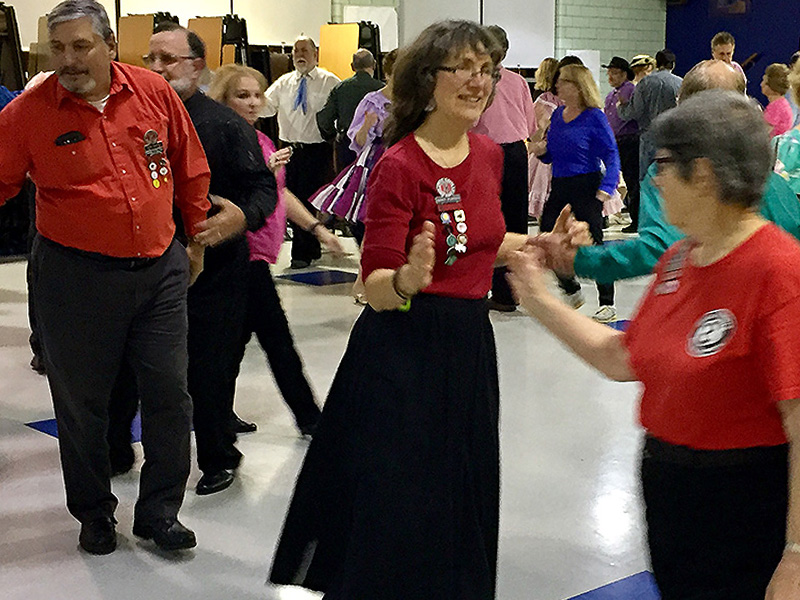 Circle Eights colors: red and black.
Pauline and Addie, carrying the banner.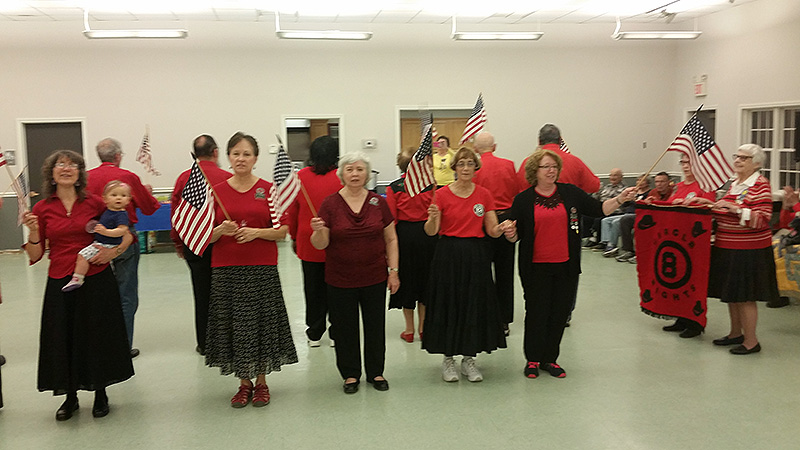 Raiding FAD, with grandchild.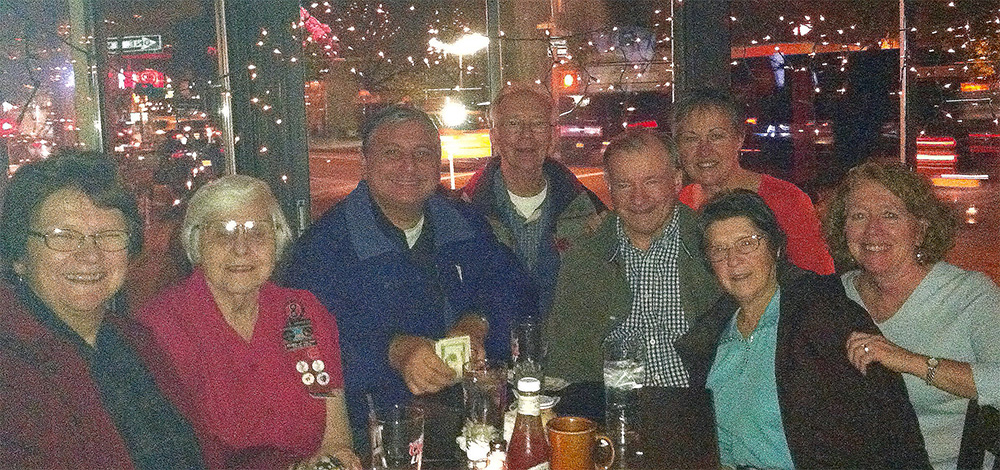 Dinner in the city before raiding the Times Squares.